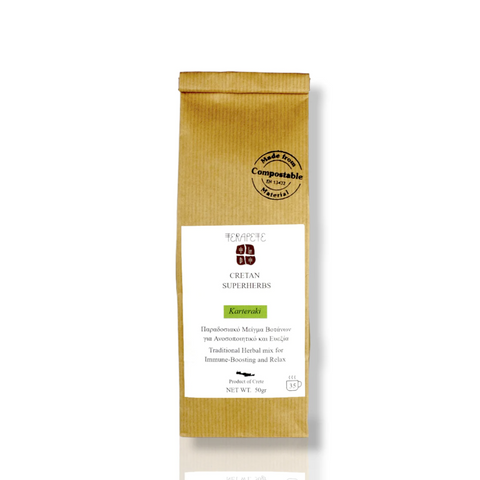 Terapete
"Karteraki" Herbal tea Mix for immune and well-being
€2,90
€3,50
you save €0,60
KARTERAKI Perhaps the most famous Cretan drink, which is based on an old traditional recipe of the island. Unique organic Cretan herbs such as dittany, Cretan malotira, sage, marjoram, and mint, blend harmoniously and offer us a tonic, soothing and therapeutic blend that contributes to the maintenance of memory and cognitive function. The drink has a wonderful aroma and is an ideal choice for all hours of the day.
Among the herbs of the mixture, we find the unique Dittany that grows only on the slopes of Crete and since antiquity is known for its healing properties. Its use was extensive in Byzantium, while the French monks flavored it with essential oil dittany liqueurs such as Benedictine. Dittany soothes headaches, neuralgia, liver diseases, but also menstrual pains. The Cretan goddess of childbirth, Eileithyia, wore a wreath of dittany, showing the relationship between the plant and childbirth.
We also find the Cretan Malotira (mountain tea) which with its antioxidant, antibacterial, and anti-inflammatory properties, can treat respiratory, gastrointestinal and the symptoms of serious diseases such as Alzheimer's.
Sage with its antibacterial, antiseptic, cardiotonic, spasmolytic, and antidiabetic properties tones the nervous system, increases memory, and activates blood circulation.
Anise with its diuretic, digestive, procrastinating, and spasmolytic properties act against colic, while it is also a natural pesticide.
And finally, Mint contains trace elements of iron, fiber, vitamin A, and potassium that contribute to good health while effectively treating bacteria and viruses . It also contributes to the maintenance of memory, mental alertness, and cognitive function.
Ingredients: Cretan Mountain Tea, Cretan Dittany (Origanum Dictamnus), Pennyroyal Mint, Sage, Anise, Marjoram.
Hot Brew Instructions
Boil 250ml of water. Reduce to low and simmer 1-2 tsp of herb for 5-7 minutes. Strain. Enjoy!
Cold Brew Instructions
Put 1-2 tsp of the herb in a glass jar with 250 ml of filtered water. Put the lid on and shake. Put the jar in the refrigerator for at least 12-14 hours. Strain. Enjoy your cold brew tea.