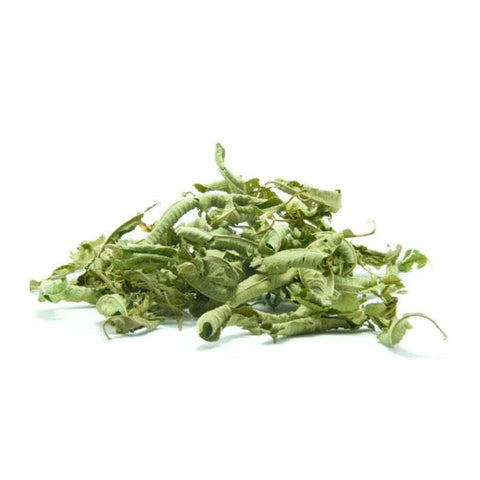 Terapete
Λουίζα φύλλα (Βιολογική) - (Aloysia Citrodora)
The beneficial properties of lemon verbena help in the detoxification and elimination of unnecessary fluids from the body and cellulite.
It is one of the most popular herbs for the treatment of obesity. Frequent use helps to increase the rate of metabolism and regulation of appetite and diuresis. It is a good choice for those who suffer from fluid retention, it significantly helps in tightening the skin.
Lemon verbena benefits may include relief from common digestive complaints including gas, indigestion, constipation, and diarrhea. The tea also reduces stress-induced symptoms, boosts the health of the nervous system, and fights fever and cold symptoms.
It is known to calm nerves almost instantly and hence, is used for anxiety, stress-related insomnia, mental exhaustion, and heart palpitations. It is often recommended to reduce the adverse effects of PMS and painful menstrual cycles. Other lemon verbena uses include easing joint pain, skin conditions, hemorrhoids, and varicose veins.
An excellent property of this herb is that it can provide relief even if it is not ingested. Those who do not like drinking Lemon Verbena tea, can use it soaked in their bath and experience the benefits of this miraculous herb.
Hot Brew Instructions
Boil 250ml of water. Reduce to low and simmer 1-2 tsp of herb for 5-7 minutes. Strain. Enjoy!
Cold Brew Instructions
Put 1-2 tsp of the herb in a glass jar with 250 ml of filtered water. Put the lid on and shake. Put the jar in the refrigerator for at least 12-14 hours. Strain. Enjoy your cold brew tea.