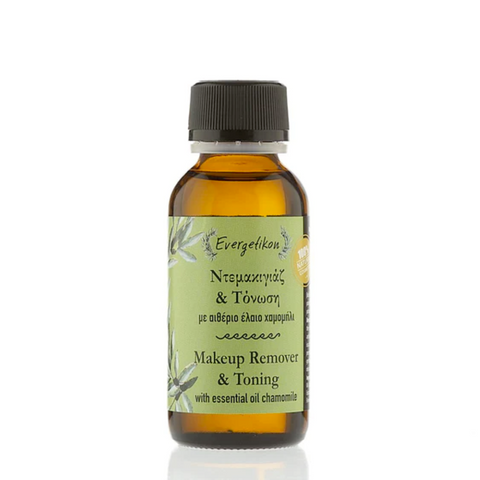 Terapete
Makeup Remover with Chamomile Essential Oil
Cleansing, toning & elasticity to the skin.
Cleansing & toning. If you have not used cleansing oil before - the thought may be a little troublesome.
The makeup remover Evergetikon works to dissolve makeup and dirty environmental pollutants. Gently cleanses and removes makeup. The chamomile essential oil it contains is soothing, antiseptic, sedative and relaxing. Vitamin E helps inactivate free radicals and protects cells from premature aging. Almond oil is a carrier of nutrients leaves skin hydrated, radiant and healthy. Lightweight make-up remover oil is ideal for normal to dehydrated skin types.
Soak a cotton pad and gently wipe over eyes and face and skin is clean. No rinsing required.
50 ml
Ingredients: Prunus Amygdalus Dulcis (Sweet Almond) Oil (almond oil), Rosmarinus Officinalis (Rosemary) Leaf Extract, Tocopherol Acetate (vitamin E), Anthemis Nobilis Flower Oil, Rosa Damascena Flower Oil.
Without:

 
parabens, silicone, propylene glycol, mineral oil, ethanolamine, phthalates, musk xylene, triclosan, methylisothiazolinone... or any other chemical preservative or additive.